I'm doing a compilation of the street foods(& others) that I've eaten during the three months of my internship (in year 2014). I usually do reviews individually for each cafes but as for street foods, I decided to compile it all in one post so that it's easier to refer to! Also, as a reference, I'll put those that I personally like at the top of the list with *thumbs up* next to the name of the place and also, those that I don't really like at the bottom with *thumbs down*, just for the heck of it. I'll also put a list of links to the cafes reviews that I have done at the most bottom part of this post, also in the same format, from the best to the not-so-good ones.
I didn't include the price because the price goes up and down with time
and also, the biggest factor is because I didn't note down the price.
I've linked the places name with their foursquare location so you can easily search for the location and also comments. ALSO! I've made a compilation with google map (can find it at the bottom-est part of this post). Oh my, aren't I the best? Now, your food search will become so much easier.
Awesome places to nom nom
The best Penang ccf that I've ever tried! The shrimp paste is very thick and the chili is awesome. Seriously a must eat food in Penang!
The other stores serves mediocre food including this one. Hmm, not worth ordering if you're food hunting.
I have eaten this for a few times because I really really like the soup! The best kuey teow th'ng ever! Although during my first time there, I felt like it was just okay but somehow I fell in love with it. Every time I went there to eat, I would finish all of the soup too, till it's last drop. I personally think the night version of this is better than the day version, the soup base gets thicker(I think?).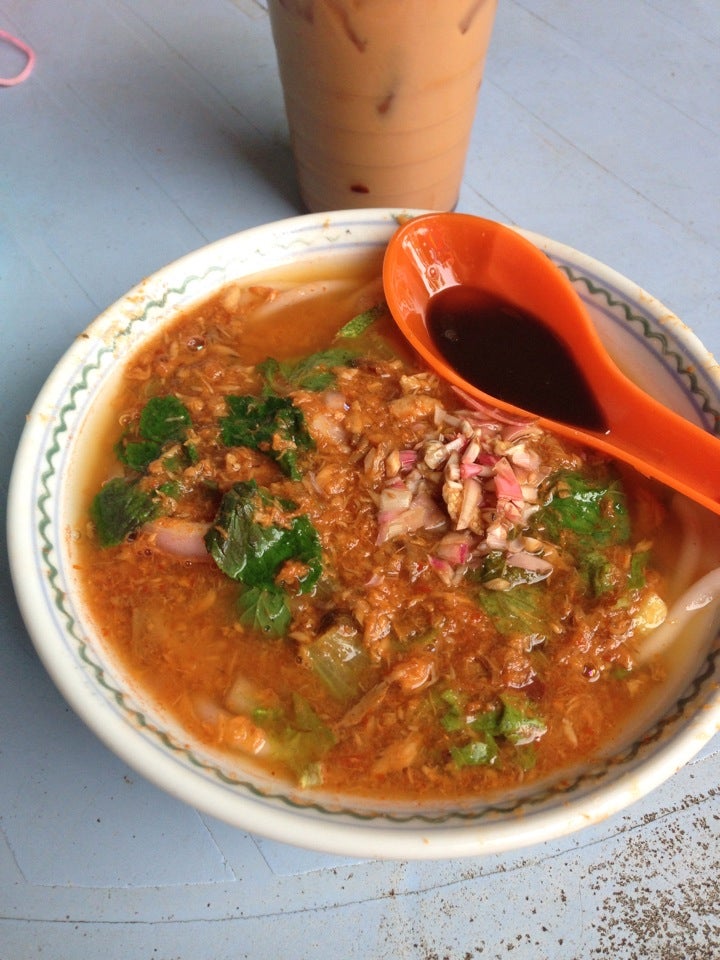 Photo credit to foursquare
I kid you not. It's my personal favourite! It can get quite sweet though.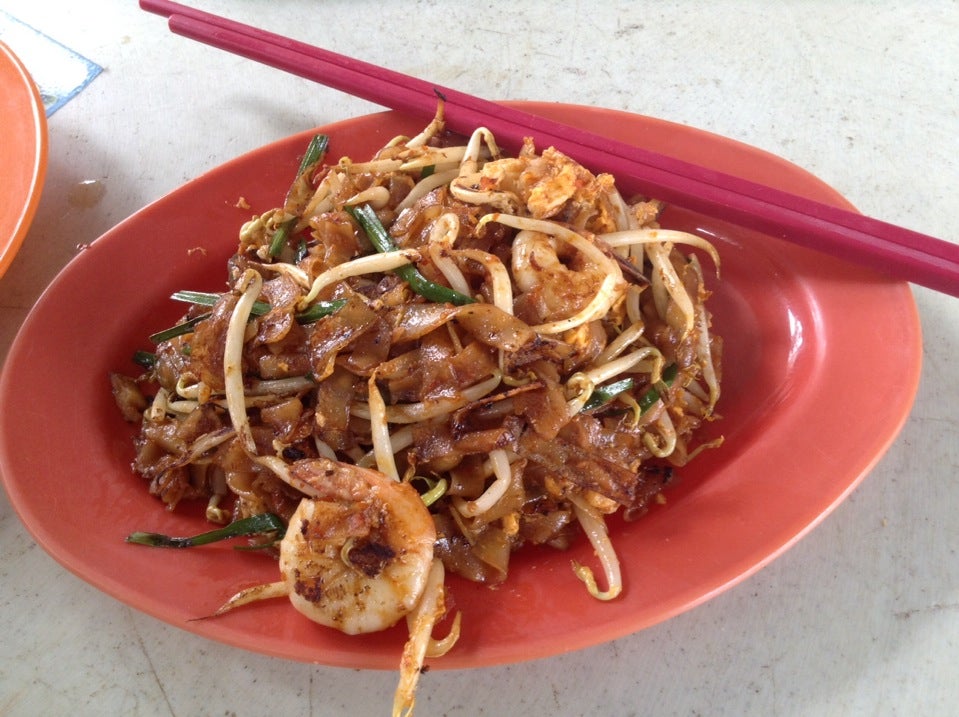 Photo credit to Foursquare
Another plate of goodness that is to die for. Seriously, I can't make up my mind when I'm there because the laksa and the ckt is so so so so so good.
The perfect old school breakfast served with 2 half boiled egg. What a great way to start your day aye?? You can fine-tune the amount of sugar you want on your bread because you have to add the sugar yourself.
Delicious yam rice served with mixture of pork. I can finish the yam rice without any other dish.
The famous Aki Pancake offers a whole load of choices! I swear, the first time I was there I don't even know what I should order because there's simply too much choices (for the filling). I personally like the chocolate and peanut butter filling one though. The pancake can be a bit expensive though.
I actually ordered wrongly. Because there's two shops serving Thai food and they were next to each other. I happen to order at the wrong shop that is serving the one that is not really edible. I swear, one mouthful and that's it for me. Not taking another single scoop.
The only place that serves this one-of-a-kind drink. Perfect during a hot weather.
Not bad for a snack too but can be a bit too doughy and oily.
DAMN AWESOME OKAY. But damn... the calories count.... but it's so so so so good. Served with a generous amount of duck meat and the insides.
Photo credit to Boon Yan, a friend of mine who kindly "borrowed" his picture for me :)
Unfortunately I didn't take any photo of this piece of divine food. I was too hungry, I ate it all up before I get the chance. I don't really like Prawn Mee but this is heavenly.
MMMMUUUSSSSSSTTTTTTTT TTTTRRRRRRYYYYYYYYYYYYYYYYYYYYY!
YUUUUUUUUUUUUMMMMMMMMMMMMMMMMMMMMMMMMM!!!!!!!
Need I say more?!!? Really didn't expect the cendol there to be that good! Really surprised me.
Love the assam laksa here. Better than the Ayer Hitam one in my opinion.
Passion of Kerala
My second banana leaf rice in my life. I'm in love with banana leaf rice after this meal. Constantly looking for other banana leaf rice store. Hahaha.
Very crunchy but a little bit oily.
Same here. But this is surprisingly nice too.
First time ever having tomyam like this. It felt like I'm having a steamboat. And the most surprising part was the bacon!
The tomyam is quite spicy, very sour and salty too. The fried fish was too salty. Overall, salty is the word. I was very thirsty after the meal.
Another shop serving Raja Uda Tomyam Mee. Which I prefer actually.
I didn't know they have porridge version, this is very delicious too.
I like this version better than the Joo Leong one because it's not that salty, just nice.
A not very well known place but never eaten anything like this. It's super yummy, packed with herbal flavor. Reminds me of bak kut teh but it's not exactly the same. RM6 for a generous amount of braised pork knuckle.
Another awesome discovery in Batu Maung. Very appetizing and they put generous amount of ingredients too!
Ah Chye Rojak
Recommended by a friend of mine who is living in Sungai Dua. Sorry, I couldn't pin point the location but I bought it when there was a pasar malam going on in that area.
I still prefer the "Penang Rojak King" in Seri Kembangan although they do taste similar. Except the rojak here put less peanut sprinkles and there is additional "yao yu" in it (which I didn't like). Would prefer it more if he put more crispy prawn fritters or fried yao char guai. Either way, the rojak sauce is auhhhssuummm.
It's quite hard to find a good place that serves Bak Kut Teh in Penang especially dry ones because it's rare in here. But luckily I found a really great one in Sungai Dua! Thanks to my colleagues who one day brought us here for diner after one of our badminton session. Almost everyone of us was ordering this. I have to say this actually almost taste like the ones they serve in my favorite BKT place in Puchong.
Kapitan Restaurant
Damn nice lah weh. The rice can feed two of me but I can still manage to finish them raw because the rice is just nice on it's own too.
The naan can be a bit tough but overall it's still good. Really like the sauce though and the lime onions which goes really really well with the chicken.
Good places to nom nom
One of the famous Char Kuey Teow in town. We waited an hour for this. The food is a little bit too watery and very oily. The taste was good but.. it's just too oily for me. Not really worth the wait if you're very very hungry, but trying once is okay.
Great banana leaf rice! Really like the vegetarian beef meatball and the curry.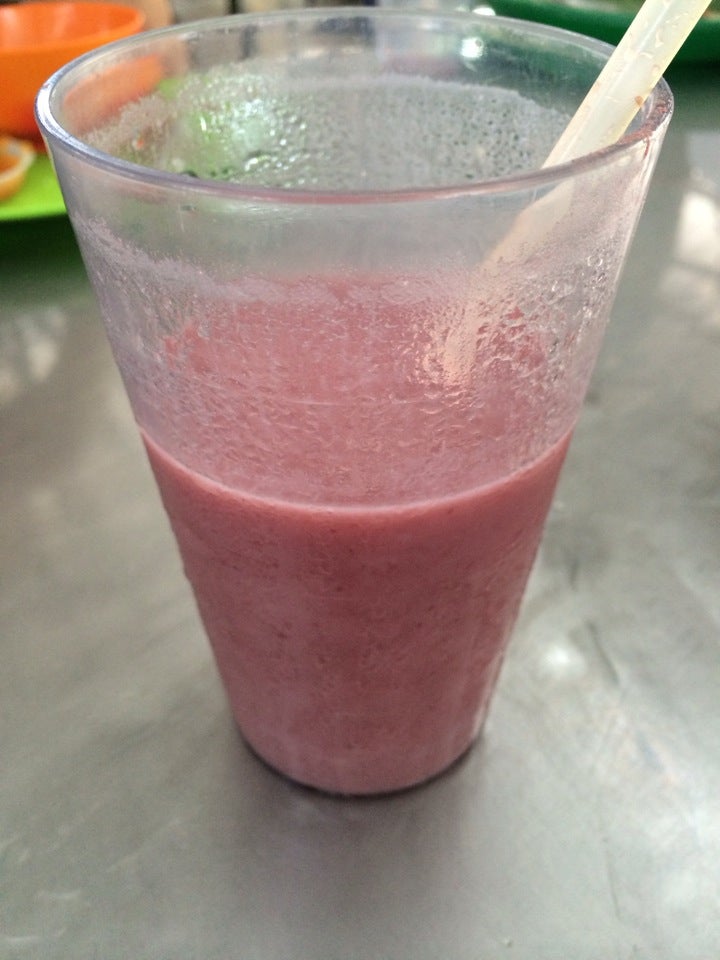 Photo credit to Sky F. from foursquare
This was also recommended to me by the locals but I don't like red bean so I didn't order any. For those who do, please, by all means, try it.
Lots of choices to choose from.
The shop offers tons of choices including Nyonya cuisine. Not really a place for food hunt but just a normal dinner place.
Almond dessert(?)
Forgotten the exact name. Not much almond flavor but very sweet and fried yao char guai was very hard like rock.
Forgot what this is, but it's not bad.
Sorry for the half-assed review for this.
Plenty of choice, plenty of people too. Be sure to go early to avoid waiting too long. Taste-wise, so-so.
A HUGE place to cater an insane amount of people. Even when it's almost 11pm, people are still crowding in this place for dim sum. The food is almost the same as Maxim Dim Sum but I personally think this place is dirtier. Also, it's hard to find parking here.
I find this bacon wrapped dim sum interesting though because.. I never see people using bacon as a dim sum dish. The custard bun and pork bun was sold out when we got there. So be sure to be EARLY too for more food.
Cheap and nice Thai food. Frankly I like all the dish they served. Although some of them is a little bit cold, but taste-wise it's good.
Laici susu. The first time I'm tasting it and I have to say it's surprisingly good too. Probably be asking for this drink in the next mamak stall that I'll be dining in.
They serve in sets. Asam fish was quite good, they also served pickled radish/vege which I seem to taken a liking to eat.
It looks a bit like a home-cook meal. Lol. But I really really like the beef rendang and also the fragrant nasi lemak!
I actually yearned for this for quite a long time when I was there. But when I finally tasted it, I felt like it wasn't that good like the last time I eaten it. Maybe it's because I found a better one.
Coconut juice, coconut meat, some edible pearls, a lot of sugar and vanilla ice-cream. Would love to have this in my hands on a sunny day.
Need I say more?? Who can resist them?
It can be a bit salty but the soup can be really nice... The trick is to add a little bit of water. That's what I did anyway. Thanks to the generous amount of vege, it's sweet too.
I don't really eat Jawa Mee, but I've eaten this twice just because it's different from the ones I normally see in my life.
In the evening, the shop is closed but there will be a single shop serving Bak Kut Teh around the cafe.
The portion was suprisingly SMALL but the soup is unlimited. The soup is thick and delicious. Just wish that they would give more meat.
There were just two of us having dinner. We ordered just one thing and it cost us almost RM50. Super duper expensive. Be prepared to burn a hole in your pocket if you're coming here. Well, at least the food is nice, I'll give you that. Was tempted to order the cheese main course but it'll cost me RM100. Well, maybe another day.
Frankly I forgotten what dish we ordered but overall, the food is really yummy and they serve them really fast too. Not a bad place for a dinner.
My Voice Cafe
They have a few flavor to choose from and also you can choose the servings too (minimum 2). We ordered 2 servings, and is just nice for 2 people. As for the flavor, I was taken aback because it taste kind of authentic and very good too.
Don't know what the buzz is about. It's just another bowl of nasi kandar.
Great steak but service can be slow. Especially during lunch hour, you'll get a headache when finding a parking and a place to sit inside the restaurant too.
No-no places to nom nom
A let down. Taste like sweet plain water with jelly.
This is just so-so. Not bad either.
Was there to try the Duck mee, but it didn't open when we were there (twice). So have to settle with the other food stalls... And it was disappointing.
Okay.. but... don't really like it.
This one caught my attention because of the comments of the fried sago on foursquare, so decided to give it a try. Never really eaten fried sago before.
Turns out.... it was yuck.. Everyone of us give it a pass after a bite. It's just sago cooked in soy sauce(?), taugeh and chili paste.
Noodle and the YTF tasted bland. But the "Pok Pok Chui" is seriously very crispy.
Burnt and hard rice. I think some is undercooked too. Very sweet. Hmm... Not going to have this for the second time in my life.
EXTREMELY SPICY tomyam mee. Trust me, you'll boom your toilet the next day and have a very annoying sore throat too as a bonus.
Expected to be crunchy but it was like eating bread. I didn't really like it.
(Aunty with goggle)
Tasteless and super duper expensive. I don't know why it's famous! I mean, it doesn't even taste like anything. Banned forever!!!!
I can basically cook this up at home in a few minutes. Not worth the money in my opinion. The service was bad too. Don't like the attitude of the shopkeeper.
I didn't try the overrated Cendol during that period of time when I was there but I did try them before in my previous visit to Penang. I didn't really like it. I don't know why so many people go there for it, maybe because it's just famous. The cendol is just normal, nothing special, but some say it's the best. Frankly, I beg to differ. I've tasted better.
Other Reviews
Map